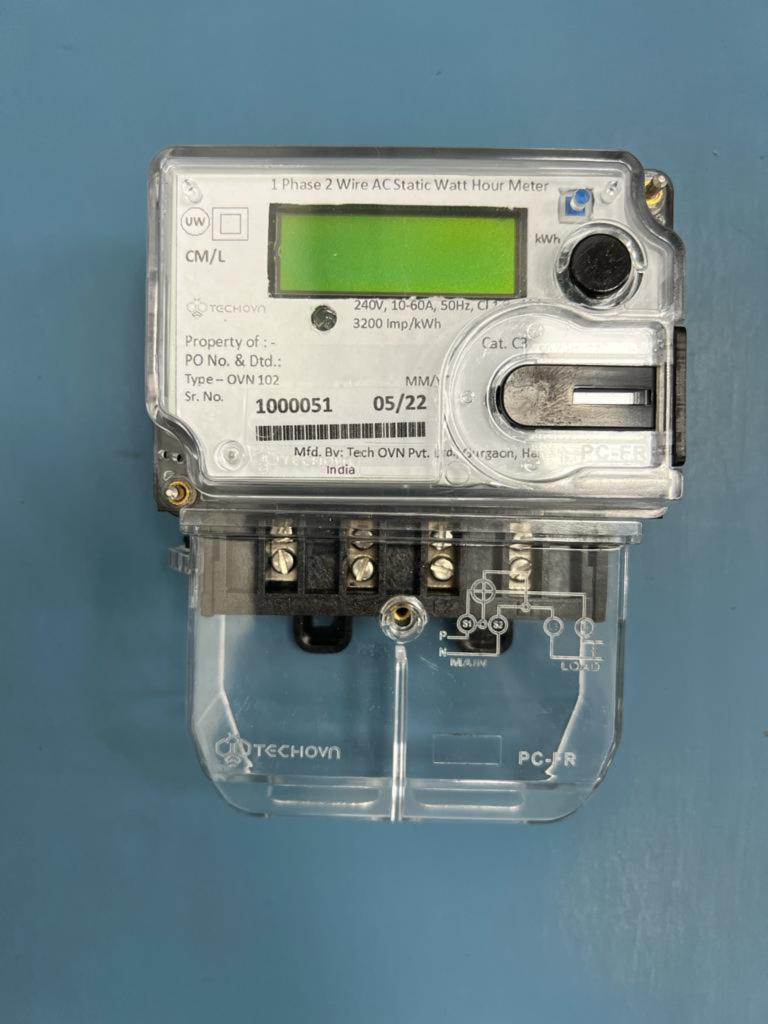 Rated Current​​:​ 5-30A, 10-60A
Rated Voltage​​: ​240 V
Accuracy Class​​:​ Class 1.0
Standard​​:​IS: 13779 (2020)
Voltage, Current, Power Factor, Frequency
Tech OVN manufactures single phase and three phase static electricity meters that comply with IS 13779. Our meters are rated with class 1 accuracy along with tamper detection, recording and tamper penalty. Our meters are designed to be customisable as per customer requirements and specifications.
Tech OVN manufactures the meters at our plant in Binola, Haryana (Close to Delhi) at our 7.5 acre factory. The factory is dedicated to the manufacturing of Static meters, Smart meters and smart EV chargers. Our testing and validation lab has MTE testing bench (with 0.15 accuracy), automated tamper simulation machine, Power analyzer, phantom loads, etc. With our facility and equipment we strive to be one of the top Energy Meter Manufacturers in India.
The meter records correct energy with the same accuracy even with reverse current conditions. An optical port is in the front of the meter for automatic meter reading. Accuracy is maintained even with variable frequency, voltage fluctuations or current fluctuations. Our meters even have an open cover detection built in to avoid any physical tampering of the meter.
India has one of the toughest regulations for meters in the word, due to strict tamper conditions. Electricity meter manufacturers in India often export to a lot of markets because of technical superiority and cost competitiveness of the meters.
Tech OVN also manufactures smart energy meters. Electricity meter manufacturing companies,give advantages to both the consumers and the utility companies by providing them real time data and consumption patterns. Smart meters help consumers understand what appliances consume the most power and how they can reduce their energy bills. Utilities on the other hand benefit with automatic billing systems, real time data which helps in grid balancing and energy generation optimisation.
India is gearing up to replace all conventional static meters with smart meters in the coming years. Currently the smart meter manufacturers in India do not have enough capacity to serve the entire market. Tech OVN aims at becoming one of the top smart meter manufacturers in India.
Tech OVN offers Single phase and Three phase smart meters with RF or 3G/4G NBIOT as communication options. We also offer Group smart meters with 1 meter giving 3 consumers metering, this helps the utility reduce costs and manage customers in remote locations.
Using our smart meters, the utilities can automate payment for prepaid and postpaid customers with the ability to regulate maximum load and even disconnection in the case of late or no payment. One of the many ways in which electricity theft is committed is by tampering with traditional meters to show a lower consumption reading. Tech OVNs smart meter systems can help the utilities respond to tamper events immediately. Along With the built-in tamper detection and protection system, they are able to send a real-time warning to the utility when tampering is being attempted and even impose penalties.
Tech OVNs advanced metering infrastructure (AMI) are customized to Indian requirements and serve a clear path forward for Indian utilities in their transformation journey.